The Klip-BILT II® shelving system combines rugged industrial strength with powerful versatility and ease of assembly.
Optimized for both open and closed shelving, this unit is equipped with strongbox posts that free up space and bolster its load-bearing capabilities. Lickety-Klip shelf clips secure each corner and allow for effortless reconfiguration as your needs change. Klip-BILT II® shelving units also fit together snugly with excellent rigidity.
Why do end users like Klip-Bilt II® shelving?
More usable space in the front corners so products or boxes don't "catch" on the front box posts; helpful for quick access to inventory
Effortless rearrangement of shelves w/ no bolts or tools required
Standard shelf design can be modified easily for heavier load capacity needs
13-gauge steel construction stands up to weight, strain and rough duty
20-gauge shelves w/ lapped and welded corners provide strength throughout the entire shelf instead of just on the edges
Ease of assembly
Stocked quantities available for ready availability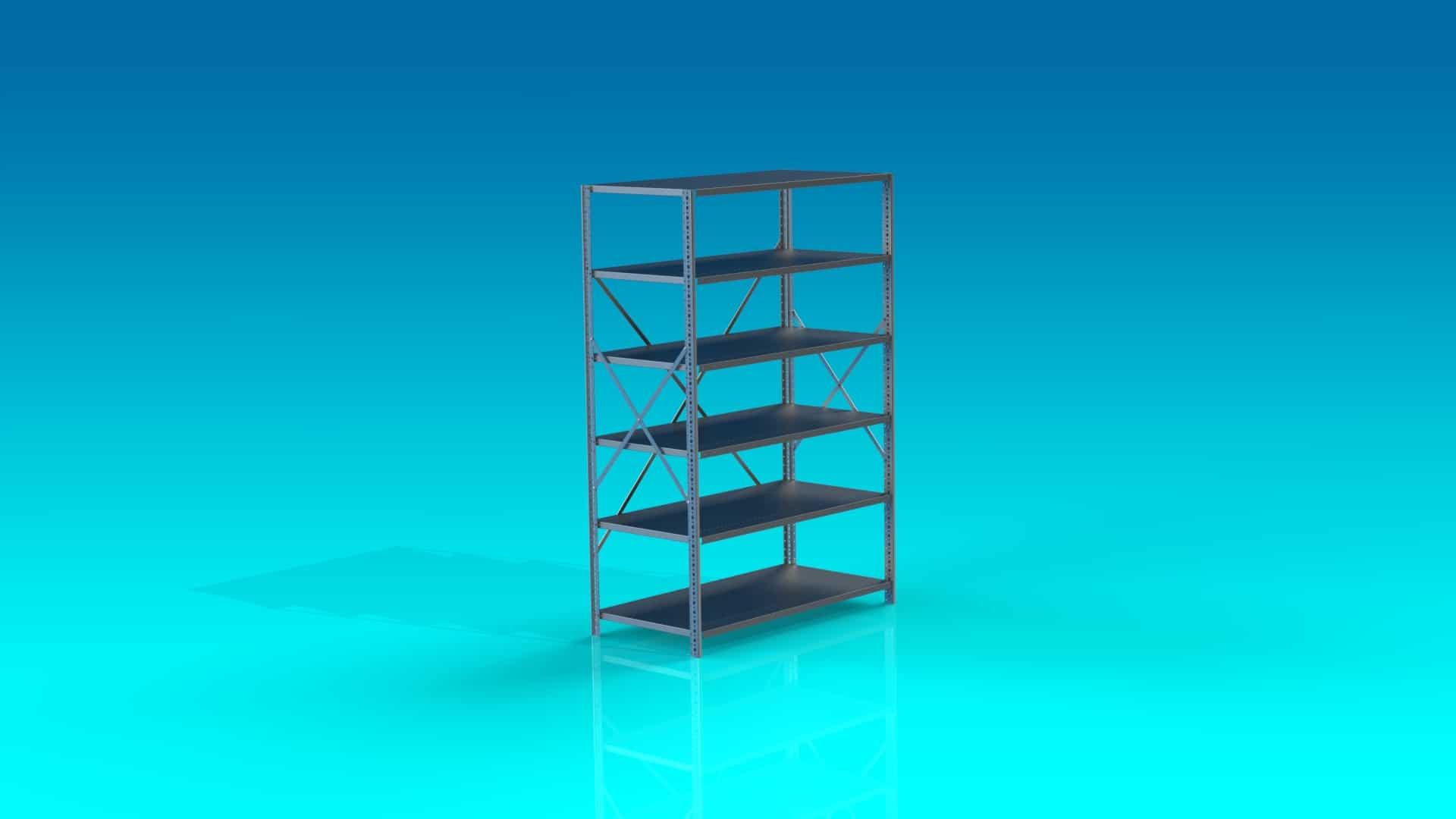 Lickety-Klips are sturdy, dependable compression clips designed for holes pre-punched on 1 1/2″ centers. You can readily deploy Lickety-Klips at whatever height you need and, as they're independent of those in adjacent units, they can be adjusted without hassle.
Shelves can be assembled and reorganized quickly using four clips and nothing else. There's no disassembly needed, and no bolts or tools required.
Configuration & Storage Options
Klip-BILT II® starts with a basic post and shelf arrangement. You can add high density drawers and sliding shelf dividers according to your specific needs. From there, you decide whether you want an open configuration (side and back braces), a closed configuration (back and side panels), or a closed configuration with doors.
Stronger Than the Competition…And More Colorful
Eco-Friendly Powder Coated Color Options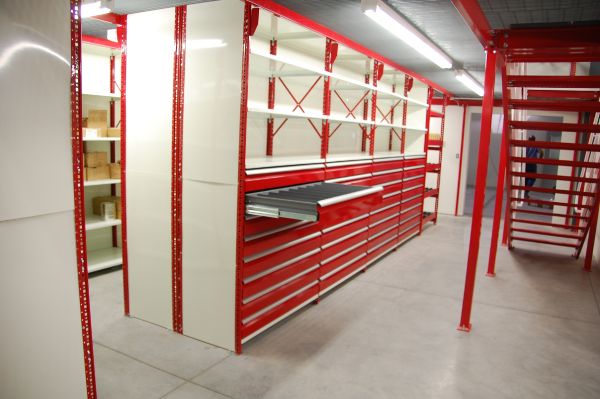 Klip-BILT II® Applications
Who uses Klip-BILT II® shelving?
Industrial Distribution
Warehouses
Automotive
eCommerce
Offices
Hospitals
Retailers
Where is Klip-BILT II® shelving used?
Maintenance Areas
Stockrooms
Assembly Areas
Office Supply Areas
Record Storage Areas
Why use Klip-Bilt II® shelving?
More Efficient Warehousing
Better Space Organization
Quick Access to Inventory
More Available Storage Space
Better Control of Inventory
Safe Organization of Records
KBII & Speedi Bilt & Modular Drawers Demo
Klip-BILT II® Parts List & Specifications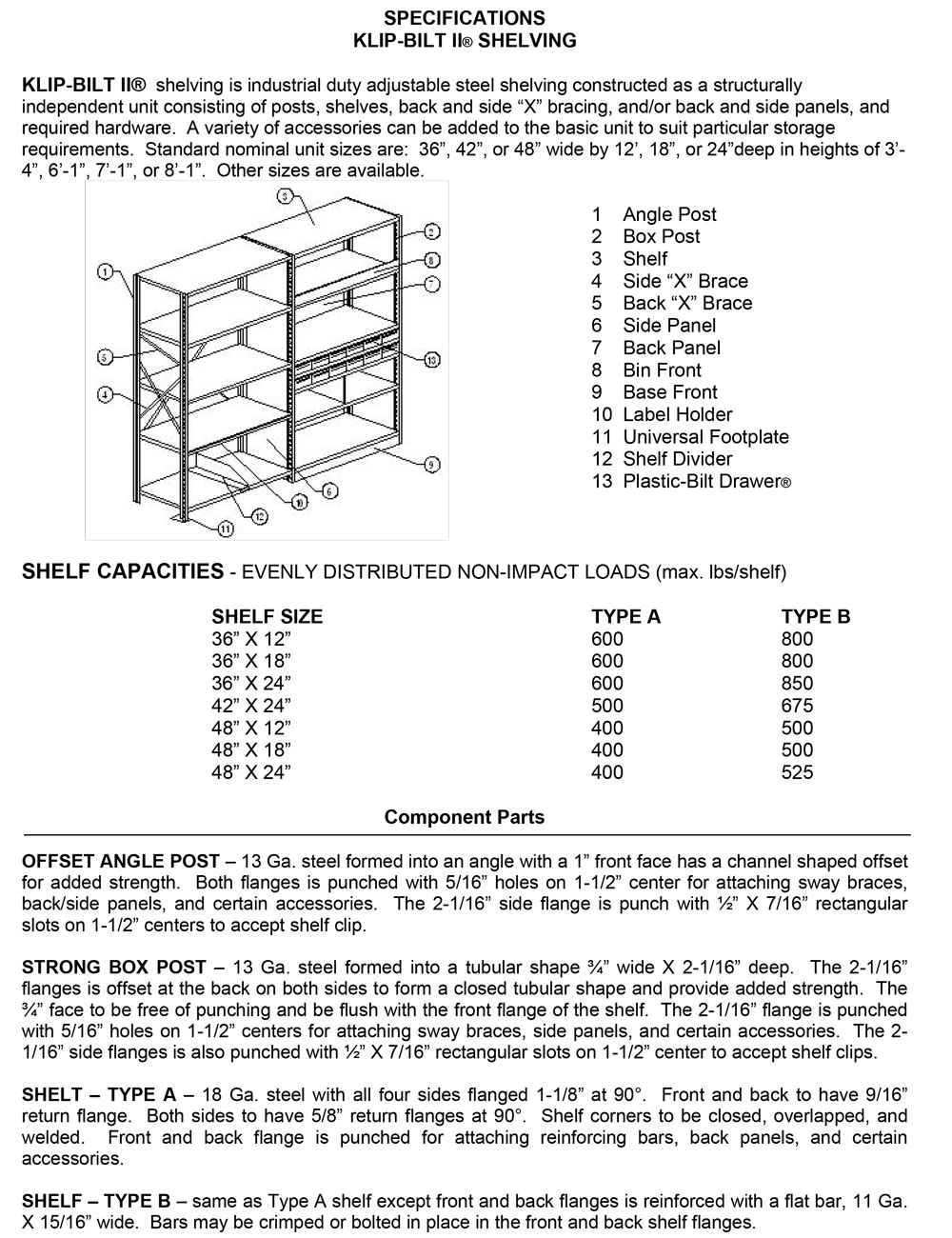 Klip-BILT II® Assembly Instructions