Introducing drawers that you can move around just like a shelf. BILT's modular high-density drawers are unencumbered by mounting tracks. This inventive approach allows fully extendable, 400 lb capacity drawers with volumes 6–8% larger than the average HD drawer.
Assembled with an 18-gauge drawer base, 12-gauge rails, and full-width handles outfitted with label holders, these modular drawers are a powerful tool for organizing bulky loads. Or, for small parts storage, use the optional 18-gauge "slip-in/slip-out" cross-dividers for flexible partitioning. All drawers except the 9" come with a standard number of dividers included.
Configuration & Storage Options
Standard available sizes are 36" or 48" wide, 18" or 24" long and 3", 6" or 9" deep. Use the drawers with BILT shelving units to create combination drawer and shelving units, workstations and more. Expert design assistance with your purchase assures a superior storage system and long-term ROI.
For partitioned storage, the 3" and 6" models come with 18-gauge "slip-in/slip-out" cross-dividers.
Stronger Than the Competition…And More Colorful
Eco-Friendly Powder Coated Color Options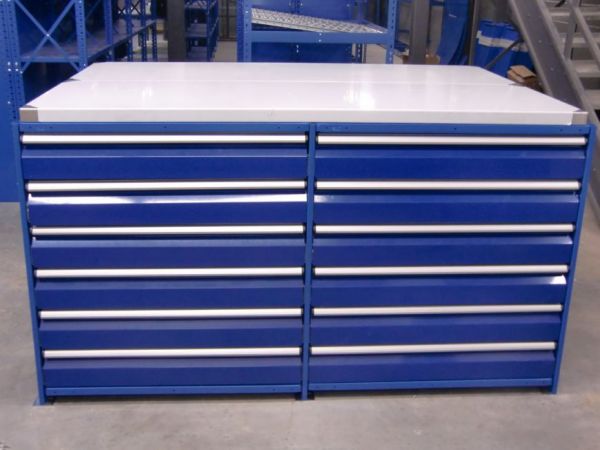 Modular Drawer Applications & Benefits
Automotive: Faster Hardware Picking for Less Wait Time

Archival: Obsolete Product Concealed Yet Accessible for Reference

Warehousing

Small Parts Storage: Flexible Partitioning for Increased Organization

Industrial

Distribution Centers
How can you benefit from BILT Modular HD Drawers?
BILT's modular HD drawers are a well-loved product for a reason. They're strong. They're spacious. They can handle bulky loads or small parts storage easily with the use of optional dividers. And they're beneficial for a wide range of applications.
Warehouses, distribution centers and material handling facilities can use BILT modular drawers to optimize organization and storage capacity. Combined with BILT shelving, they can create mixed open-and-closed storage units, cabinets, workstations and more.
Equipment manufacturers can use BILT HD drawers as heavy-duty storage solutions for bulk and small parts.
Contractors and manufacturers can use BILT modular drawers for easy storage of equipment, tools and parts.
Offices can use the drawers for archival storage.
Different branches of the automotive industry can also benefit from our modular HD drawers. They are a favorite of dealerships and repair shops to store tools and parts. Auto parts stores can use the drawers for easy access to product, cutting down on customer wait times.
The storage possibilities are limitless. Talk to us about your storage needs and we'll quickly address them.
KBII & Speedi Bilt & Modular Drawers Demo
Modular Drawer Assembly Instructions